DashDyno Serial GPS Cable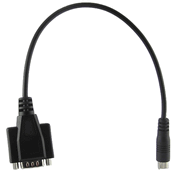 The DashDyno Serial GPS Cable is used to connect a external serial GPS receiver to a DashDyno SPD.
GPS positional data is recorded by DashDyno and saved to the SD card for playback using the Dyno-Scan for Windows software. The external GPS receiver must support serial communication and the NMEA 1083 protocol. Most handheld GPS receivers from makers such as Garmin, Magellan and Lowrance will support these features.
IN STOCK, usually ships in 1 - 2 business days. Press the Add to Cart button below to purchase.
Package Contents
Package Contents
Key Features
Key Features
1ft cable length
Quick connect/disconnect mini-DIN connector
Specifications
Specifications
| | |
| --- | --- |
| Length | 1ft |
| Color | Black |
| Connector | Male 8-pin Mini-DIN to Male DB9 |
Gallery
Auterra OBD II Scan Tools, Performance Meters and Data Loggers
Copyright Auterra, LLC All Rights Reserved. | Contact Us | About Us | Home