Dyno-Scan for Android
Dyno-Scan for Android is released! The Android software connects to your vehicle using the Auterra Bluetooth OBD II adapter that's included with the A-303 Dyno-Scan for Windows Bluetooth kit. Android tablet and phone form factors are supported.
Dyno-Scan for Android is free! Download it onto your Android tablet or smartphone from Google Play. Android device makers such as Google Nexus, Asus, Samsung, Motorola, HTC, LG, and more. A demonstration mode is built into the application for testing without a Bluetooth OBD II adapter.
The Bluetooth adapter has a super low profile OBD II connector for minimum interference inside the footwell while driving. The OBD II adapter box is then securely fastened under the dash for a clean installation.
Bluetooth wireless means no longer being tethered to the car. View and record data from a Windows PC, smartphone or tablet. All Auterra products share a common file format - record data on an Android and open it on your PC using the Dyno-Scan for Windows software.
Dyno-Scan for Android key features:
Wirelessly view and record data from your vehicle using Bluetooth.
Android and Windows PC platforms supported with Auterra's Bluetooth OBD II adapter.
Read/clear vehicle diagnostic trouble codes.
Integrated DTC database with thousands for trouble code definitions.
Software supports 264 live vehicle parameters.
CAN 6x mode for 600% faster data throughput (vehicle dependent feature).
Record vehicle sensor data and GPS position.
Measure horsepower and torque.
Measure acceleration times such as 0-60MPH and 1/8mile times.
Measure vehicle overall gear ratio.
Open Android recorded data (live data, power/torque and acceleration) on your PC using Dyno-Scan for Windows.

Recorded GPS location is displayed within Google Earth on your PC.
Easily save and load your favorite screen configurations.
Numerous screen layout options with meter, graph and dial gauge widgets.
Dynamic portrait and landscape orientation changes.
Full gesture support including pinch-zoom graphs, drag zoomed graphs, and double-tap zoom.
Main Menu
Easy to navigate menus.

Connecting to Vehicle
One-touch wireless connection to vehicle.

Live Data Options
Select the parameter, widget and layout.
Vehicle Parameters
Support for hundreds of vehicle parameters.
Real-Time Vehicle Data
View data in meter or graph formats.
Trouble Codes
Thousands of trouble code definitions.
Real-Time Vehicle Data
View data in meter or graph formats.
Power Torque
Measure vehicle horsepower and torque.
Large Live Data
Numerous layout options for live data display.
Acceleration
Measure vehicle acceleration times.
A-303 Dyno-Scan for Windows Bluetooth
Windows kit includes the Bluetooth OBD II adapter.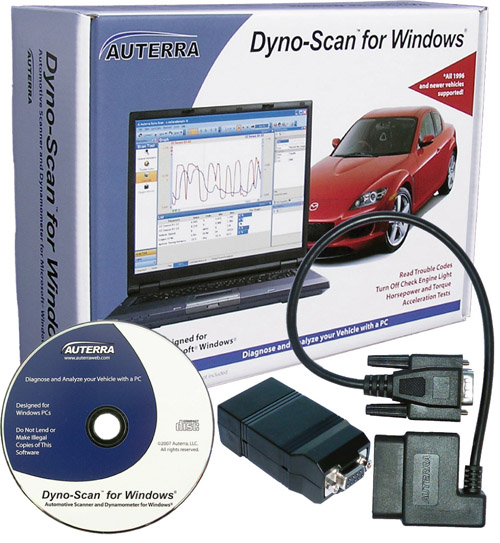 Bluetooth OBD II Adapter
Super low profile OBD II connector and short
cable for under dashboard mounting.