Dyno-Scan for Windows Bluetooth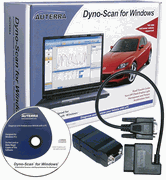 Dyno-Scan is two products in one! First, it's a full-featured On-Board Diagnostics (OBD II) scan tool capable of diagnosing a wide range of vehicle problems. Second, the dyno package measures engine horsepower and torque, acceleration times, and even instantaneous and trip fuel mileage.
Android and Windows PC software is included for the Bluetooth OBD II adapter. The Dyno-Scan for Android app is a free download for your tablet or smartphone on Google Play.
The A-303 Dyno-Scan works on all 1996 and newer vehicles and supports all OBD II communication protocols: CAN bus, VPW, PWM, ISO and KWP 2000.
The included Dyno-Scan for Windows software supports a PC with Windows XP/Vista/7/8/10. English, Spanish, German, Italian, French, Hungarian and Greek versions included. English and Metric units of measure.
Learn More About Dyno-Scan » User Guide » Android User Guide »
OUT OF STOCK
Package Contents
The Dyno-Scan for Windows Bluetooth kit includes everything you need to wirelessly connect a PC to your vehicle.
Key Features
Key Features
All 1996 and newer vehicles supported, including American, Asian and European
Bluetooth OBD II adapter for wireless connection to a Windows PC or Android
Windows XP, Vista, 7, 8 and 10 Supported (32-bit and 64-bit, all versions)
Supports 264 live data parameters and multiple ECUs
English and Metric units of measure.
Turn off the vehicle's Check Engine or Service Engine Soon light
Read and clear diagnostic trouble codes (DTCs)
Integrated DTC description databases with thousands of code definitions, including enhanced and generic definitions
Supports diagnostic modes 1 through 9
Supports enhanced diagnostic modes 13, 14, 17, and 18
Rugged molded OBD II cable design
CAN, VPW, PWM, ISO and KWP 2000 protocols supported
High speed CAN 6x communication mode
Bi-directional control support
Read and clear freeze frame data
Monitor live data with line graphs, bar graphs, and meters
Graphically zoom in/out and pan within a virtual trace buffer
View multiple sensors simultaneously with variable sample rates
Record and playback live sensor data streams
Oxygen sensor monitoring and on-board test results
Measure vehicle gear ratio
I/M readiness. Metric and English units of measure
Printing and screen shot export to an image file
Horsepower and torque measurements
0-60 time, 1/8 and 1/4 mile time and speed, MPG, and top speed
Spanish, German, French, Italian, Hungarian and Greek support
1-year warranty
Specifications
Specifications
| | |
| --- | --- |
| Size | 3.5" W x 1.75" H x .875" D |
| Weight | 4 oz |
| External Power | None. Draws power from vehicle OBD II connector. |
| Temperature | 32° to 158° F (0° to 70° C) non-condensing |
| OBD II Protocols | J1850 (VPW, PWM), ISO 9141, ISO 14320 (KWP), and ISO 15765 (CAN bus) protocols |
| PC Connection | Bluetooth wireless |
Screen Shots
Click images for larger view. See Dyno-Scan for Android for Android screen shots.
Gallery
LARGER IMAGE