Mini-DIN Cable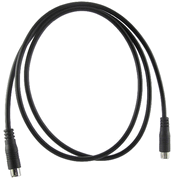 The Mini-DIN cable is used to connect custom vehicle sensors of your choice to your DashDyno SPD auxiliary analog and digital inputs.
Typically one cable end is cut and the wire ends are spliced into a custom vehicle wire harness that you design. See the Specifications tab below for the pinout wire color coding used inside the cable. See the DashDyno User Guide for the mini-DIN pin and DashDyno auxiliary port pinouts.
IN STOCK, usually ships in 1 - 2 business days. Press the Add to Cart button below to purchase.
&nbsp
&nbsp
Package Contents
Package Contents
Key Features
Key Features
4ft cable length
Quick connect/disconnect mini-DIN connector
Specifications
Specifications
| | |
| --- | --- |
| <Length | 4ft |
| Color | Black |
| Connectors | Male 8-pin Mini-DIN |
| Shielded | Yes |
| Wire Color Mini DIN Pin 1 | Brown |
| Wire Color Mini DIN Pin 2 | Red |
| Wire Color Mini DIN Pin 3 | Orange |
| Wire Color Mini DIN Pin 4 | Yellow |
| Wire Color Mini DIN Pin 5 | Green |
| Wire Color Mini DIN Pin 6 | Blue |
| Wire Color Mini DIN Pin 7 | Violet |
| Wire Color Mini DIN Pin 8 | Black |
Gallery
Auterra OBD II Scan Tools, Performance Meters and Data Loggers
Copyright Auterra, LLC All Rights Reserved. | Contact Us | About Us | Home